Project assumptions
Working with the Jeronimo Martins Group, we took full responsibility for the planning, coordination and execution of the project. Our task was to produce dedicated cosmetics display systems for our Investor to use at promotional events at home and abroad. We started our collaboration with an interview, which is a very important stage of the design process - at this point we gather all the necessary data to start working on the project.
The Investor was primarily concerned with:
a fast turnaround time enabling the system to be used during upcoming cosmetic launches,
modern, minimalist design,
opportunities for frequent rebranding,
options for expanding the system, while maintaining a consistent arrangement.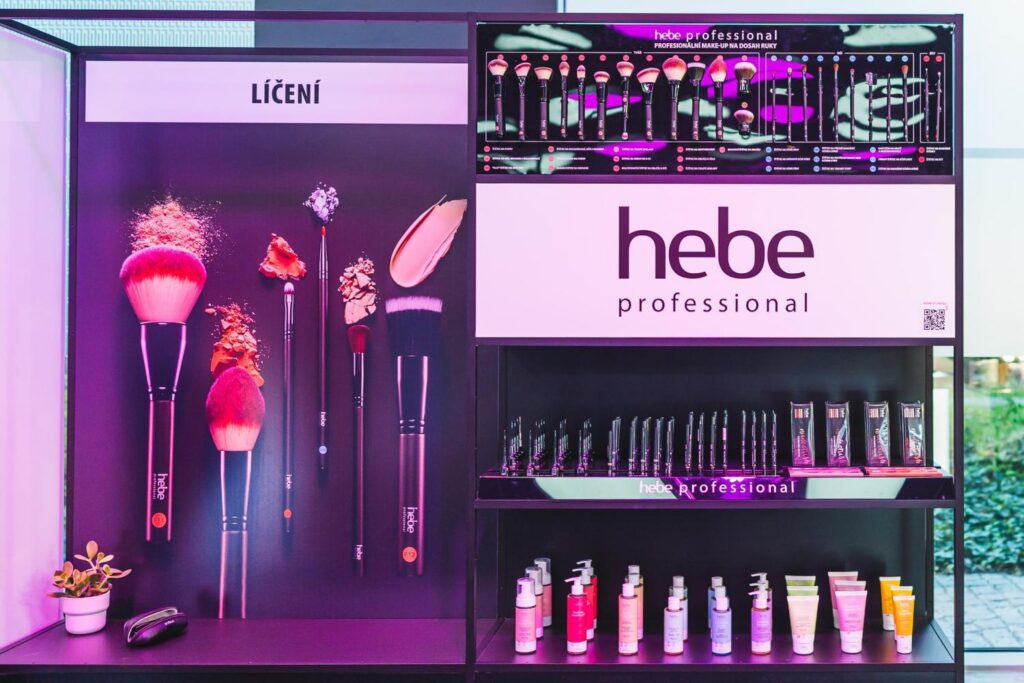 Choice of materials
The next stage of our cooperation was the development of a design project with a complex functional aspect. We prepared realistic visualisations of the systems to present our concept as accurately as possible, as well as a breakdown of all the materials used in the project.
The display systems we offer are available in a wide range of designs, colours, finishes, shapes and materials, so we are always able to offer tailor-made solutions for specific needs. After material and technical consultation, our Investor decided on black shelving displays, complete with laminated shelves and a variety of infill panels.
The first type of panels we use are PVC infills, which give the possibility to cover any graphic, logo or photograph. Thanks to the magnetic way in which they are mounted, they offer the possibility of instantly changing the display and signposting it with a completely different graphic design.
The second type of panels are infills made out of black polycarbonate, which we placed at the bottom of the system. As polycarbonate is a material with high impact and scratch resistance, it is ideal for projects dedicated to intensive use.
The third type of infill we chose for the project is PLEXI panels with a frosted effect. The use of a matt layer on them allows light to be gently diffused and also eliminates the risk of unwanted reflections.
The fourth type is the panels covered with cladonia. Natural moss infill is a modern and unusual decoration used by many designers and, unusually, low-maintenance. The moss we use is properly impregnated, so that it retains its original colour and texture for many years.
The basic aluminium structure of the system, as in the case of other realizations of the HELO FORM design studio, was powder-coated by us, creating an extremely durable and very aesthetic coating, and thus - meeting the durability and quality expectations of the Investor.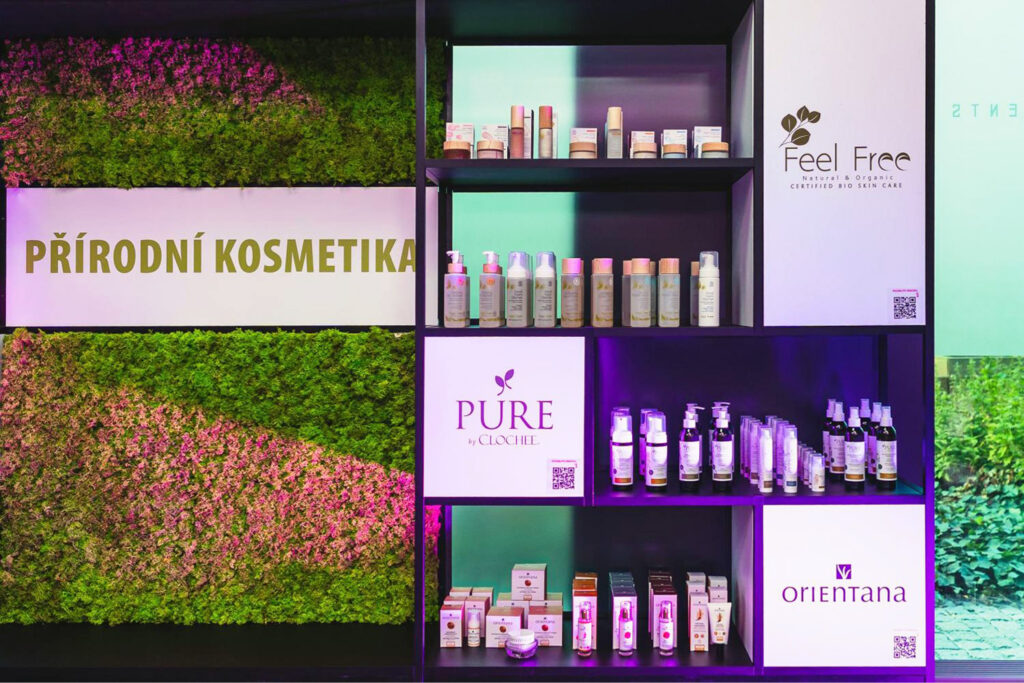 Configuration possibilities
Working with the Jeronimo Martins team, we designed a series of modern, functional and, most importantly, flexible display racks that our Client can personalise and configure at will. Should the need arise, nothing prevents the addition of inserts, drawers, cabinets, accessories or new infill panels to the base shelves. Unlike ready-made display and advertising systems, whose manufacturers usually specify and impose colours and types of finish, HELO FORM's modular philosophy provided our Investor with full freedom of creation and rearrangement.
We always design our systems taking into account the needs and ideas of the Investor - they can be built-in, uncovered, symmetrical, asymmetrical, to be used alone or in a set, but most importantly, they are always multifunctional. Giving the opportunity to be used in a variety of configurations and venues - both event activities and stationary in showrooms - allowing for a return on investment in a short period of time.
Learn more about HELO FORM shop and display racks: Shop and display racks